How to draw a cake very simply using simple pencils! This dessert is favorite among adults and children. He is happy on a weekday, and on holiday – this is the "nail" of the program. Smeknuli about what they mean? Undoubtedly, about the cake! We present you a master class on the image of this delicious dessert. Also in this article, you will learn how to draw a cake step by step!
How to draw a birthday cake
Well, what birthday is held without dessert? This essential attribute of such a holiday is always delicious and with candles. And he should be beautiful too. How to portray it?
Step 1
First draw a curved line, similar to an open oval.
Step 2
Then wave-like movements draw a draining cream, as shown in the example.
Step 3
On the side faces, draw 2 vertical lines and connect them with a slightly bent horizontal line.
Step 4
Similarly outline the second tier, just a little smaller.
Draw the candles, and behind them draw the top area, thereby completing the contours of your confectionery. Draw around the tray and carefully make the decorations. Paint it on your own.
How to draw a pencil cake
Pencil can be painted pretty pretty desserts. Following the instructions given below, this is easy.
Step 1
Take a pencil and draw two equal ellipses parallel to each other. Then in the top oval draw a smaller curve and a little higher draw another. Repeat the procedure one more time. Do not press hard on the pencil.
Step 2
Connect equal ellipses with vertical dashes. Erase all unnecessary lines.

Step 3
On each tier, draw a draining cream. In the middle and along the top edge of each tier, draw arched lines.

Step 4
Draw the candles, circle the contours with a thick pencil and paint the picture as desired.

Example of a beautiful cake

Look at how to depict such a delicious confectionery product, but without any explanation.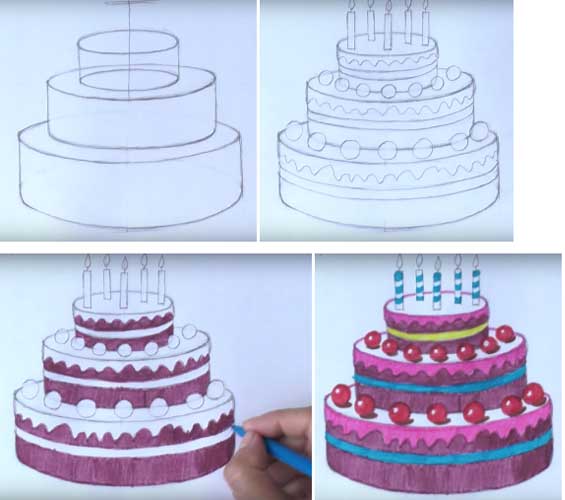 How to draw a piece of cake
Perhaps you want to depict only one piece of your dessert. Usually pies are cut into triangular sections. We offer you two examples of such paintings.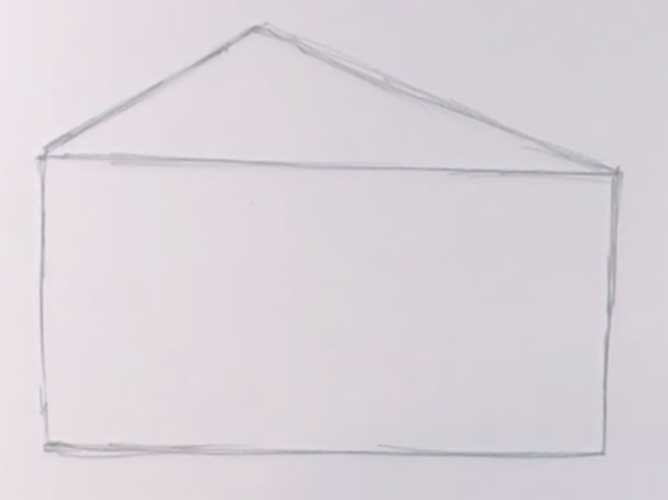 Draw a rectangle, and put a versatile triangle on it, as in the example. In this way, the drawing will become three-dimensional.
Use light pencil motions to paint creamy layers. The edges of the triangle must be made softer, creating the impression that the cream is spread on top. On the side, draw a leak.
From above, a piece can be decorated with a strawberry. And add the "stuffing" to the cakes. Look, and our piece has even eyes and a smile!
Erase the auxiliary lines, circle the outlines. Voilà!