How to draw tears in 4 different versions will be discussed in this article! Tears are a salty liquid that flows from our eyes when we cry. And although tears are most often associated with pain and sadness, we can shed them for other reasons.
Tears are often depicted merely in the form of a drop, but in this article, we will look at a slightly more realistic way of drawing tears. Every man cried at least once in his life. In this lesson, we will learn how to draw tears. Some people think that it's hard to do, but it's not. All we need is a simple pencil and a sheet of paper.
Girl with tears in her eyes(option 1)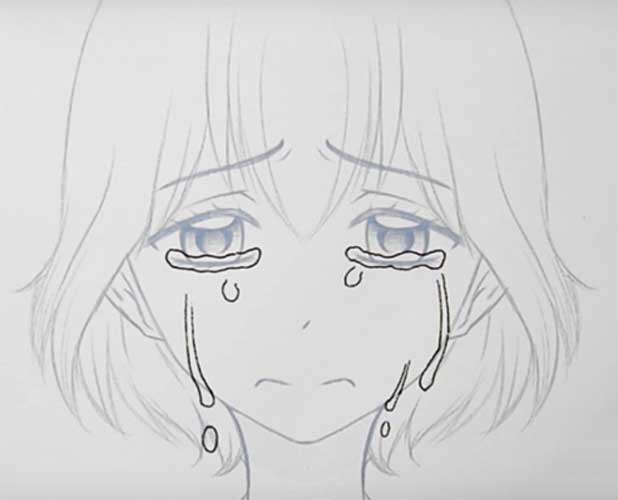 When a person has trouble, the liquid begins to flow out of his eyes. It removes the hormone of sadness from the body. Therefore, if you want to cry – cry. From this paragraph, we learn how to draw tears with a pencil.
First, you need to portray the girl's face with short hair and large expressive eyes. And on the lower eyelid make an oblong tear.

From this accumulation of liquid draw a drop that flows down the cheek down, and in the inner corner of the eye – a small tear. The image is almost done.

In the second lower eyelid, we make the same oblong figure of irregular shape. This will be the protruding fluid from which the tears flow.

Our drawing is almost over. It remains to draw the current stream across the cheek. For greater persuasiveness, you can add a couple of small droplets.
Tears drawing easy(option 2)
Today we will learn how to draw tears in our eyes with simple and coloured pencils. Do not be afraid to learn new things. You need to pick up a sheet of paper, and all other accessories and try. You will succeed.
We are making symmetrical upper eyelids. To do this, we draw two identical arcs at a small distance from each other, and along the outer edges – eyelashes.

There is a stock. Now you can draw circles of the same size under each eyelid. These will be the eyes. And below them, small lines are the basis of the lower eyelids.

We proceed to the eyebrows of a crying man. Above each eye at a short distance make irregular shapes of irregular shape.

So, the image is almost done. We draw big pupils. Streams flow from the outer corners of the eyes. This will be our tears. You can add small droplets on the cheeks.

For naturalness, it remains to take the last step – to colour. For this, you need coloured pencils. Eyebrows do brown, tears – grayish.
How to draw a tear in paper(option 3)
Consider another simple way to draw eyes with tears, and first, you need to draw the eye again. First, draw a straight horizontal line, and then a circle, the center of which is slightly above this line. Complete the two semicircles – one above the straight line, intersecting with the ring, and another below the line, also crossing with the circle. As a result, you should get an almond-shaped figure. Above the upper and lower eyelids, draw along a curved line. Near the top rope, draw another small one. Draw the tears in the form of three ovals of different shapes. Add a pupil in the center of the circle and fill it. When creating irregularly shaped figures, use uneven lines to circle the previously drawn ovals. Remove the extra strings, draw short eyelashes and draw the eyes.
Drawings of eyes with tears step by step(option 4)
Now let's take a little closer look at several options for drawing eyes with a tear.


Watery eyes with a protruding tear from the corner of the eye.


Blurred eyes and protruding tears throughout the lower eyelid.


Transparency in the eyes. Glazed tear from the corner of the eye and protruding new.


Glazed tear from the center of the eye.


Closed eye eyelashes down and a lot of incident drops and flowing tears.